Competing for a prestigious role at the Hallé, the first challenge is to keep calm
"A conducting career is very much a marathon, not a sprint," says Spanish conductor Pablo Urbina, 34. We're talking in a dressing room at the back of the Bridgewater Hall; he's one of the hopefuls who will be conducting today. I'm here ahead of one of the newer additions to Manchester's classical music calendar — The Siemens Hallé International Conductors Competition.
Might this be the most cutthroat interview process in the world? After all, the prize the winner stands to score is, plainly speaking, a job on a short-term contract — the role of assistant conductor at the Hallé, and music director of the Hallé Youth Orchestra. But competition is stiff: over 200 young conductors have applied from all over the world.
You might stumble on reading "Siemens" in the name of the competition. It's hard to imagine what a German conglomerate better known for wind turbines than woodwind has to do with the Hallé. Arguably, the relationship between the two institutions is an example of how such partnerships can be fostered without it feeling too icky for either side. "It's the finest cultural corporate partnership I've ever been a part of," booms a slightly startled-looking Sir Mark Elder, the Hallé's music director, in a promo video.
It's perhaps a signifier of the entrepreneurial climate in Manchester that even the city's oldest orchestra is happy to get into bed with big business. And, with both the BBC and Arts Council England recently announcing significant cuts to orchestral funding, it's quite a sight to see unfailingly enthusiastic support for top-quality international music-making coming directly from the private sector.
Yes, what Siemens supports here is, essentially, a job. But in an art form full of symbols, and ephemeral meanings, the assistant conductor role is so much more than a paycheque. Yes, it's a position with a fine orchestra, and the chance to shape the futures of the young players in the Hallé Youth Orchestra. But it's also a status symbol from an organisation with cultural heft, and the opportunity to join the illustrious line of Elder protégés.
A battle against nerves
Despite the best efforts of the Oscar-nominated film Tár (starring Cate Blanchett — see the trailer below) the conducting profession can still be a confusing world for outsiders to understand. "My dad is very supportive, but he has no idea," says Urbina. "To be at 34, as I am, and to still be doing competitions and doing courses, paying to do them… He's like, 'you're 34, you should already be well on your way'." Thirteen years separate the oldest and youngest conductors in the Hallé competition, but all are considered in the early stages of their careers.
The conducting world's approach to age swings between extremes like a well-wound metronome. In one moment, experience is something to be treasured; in the next, an art form's hopes are pinned on conductors who are too young to have lived experience of landlines. Take the young Finn Klaus Mäkelä, who in 2022 assumed the chief conductorship of Amsterdam's storied Concertgebouw Orchestra aged just 26, or Herbert Blomstedt, a conductor "still showing new sides of himself to the New York Philharmonic," according to a New York Times review in February. He's 95.
So does age matter, when it comes to a conductor's career? Perhaps not, but time obviously does — and not just when you're the one holding the baton. Scrolling through the list of eight semi-finalists, it's abundantly clear this is no novice competition. Credits with international orchestras, ensembles and competitions fill the page (if you haven't guessed already, this is a discipline wedded to institutions). Only one of the biographies — that of the youngest competitor, the Japanese-American conductor Euan Shields — lists an aim which sits beyond a list of accolades: "a conductor aspiring to share the joy of music".
In a community that's forever growing — there are more routes into conducting than ever before — how do you break into this profession? "By being flexible, and being open to many different paths," says Agata Zając, 27, another finalist. She's no stranger to Manchester, as the Mills Williams Junior Fellow in Conducting at the Royal Northern College of Music, and her career trajectory embodies the logistical contortions she describes. After the Hallé competition, she's a finalist in the Donatella Flick Conducting Competition with the London Symphony Orchestra, and, despite being more firmly rooted in a city than she might have imagined at this stage of her career, she's still managing to fit in a whole two months as a conducting fellow at the Tanglewood Festival in Massachusetts.
Zając is quiet, confident, and speaks precisely, but her eyes light up the moment the music is mentioned. "Those three pieces are amazing," she says of the evening's programme: Sibelius's Symphony No. 3, Edward Elgar's "Enigma Variations", and Igor Stravinsky's 1945 suite, "The Firebird."
Where Urbina and Zając project two different brands of confidence, the third finalist presents quite differently. Euan Shields wipes his slightly damp hands on his trousers before greeting me; calm and softly spoken, yet with a bit of a gawky air, we get on rather well. He's 24, and currently studies conducting at the Juilliard School of Music, a master's course that represents his first real taste of conducting tuition. "Before that, almost all of my conducting has been asking my friends to be my orchestra," he says.
Nerves can wreck a conductor, whose body is their expressive instrument. "Completely honestly, I don't like the fact that I get very nervous before a lot of concerts, especially in new situations," he tells me. But just before he walked on stage to rehearse the Hallé, something changed. "I faced the fact that, okay, I don't like that I'm nervous, that I'm feeling this; it's not very pleasant. But I have to be my own friend."
It's just a few hours before the finals. What is Shields doing to prepare? "Today was a really intense study day. All day and all night last night too, quite late, because I knew I wouldn't be able to go to bed anyway," he says. The whole week is a brutal process, with conductors told at the last minute which scores they have to prepare. The thought cycling is endless: prepare all the possible repertoire, and potentially waste time spreading too thinly? Hedge your bets, and risk looking stupid? Learn entire pieces that you may never conduct again?
An hour before our chat, Shields simply stopped thinking. "I just lay down on this couch. Tried to blank my mind. Stared at the ceiling." Urbina retreats to his dressing room to relax with his secret weapon, coconut water. Zając thinks only of the music. It's time.
Break-neck Elgar
The competition is split into three chunks. Each competitor tackles Mozart's overture to "The Marriage of Figaro" followed by their set test piece. Urbina goes first, and has drawn the short straw. Conducting Sibelius's Third, a work of long spans, difficult tricky balances, hard transitions. After just 50 minutes of rehearsal time with the orchestra, this is a big ask for any conductor, not least one in a competition. His baton trembles slightly through the Mozart.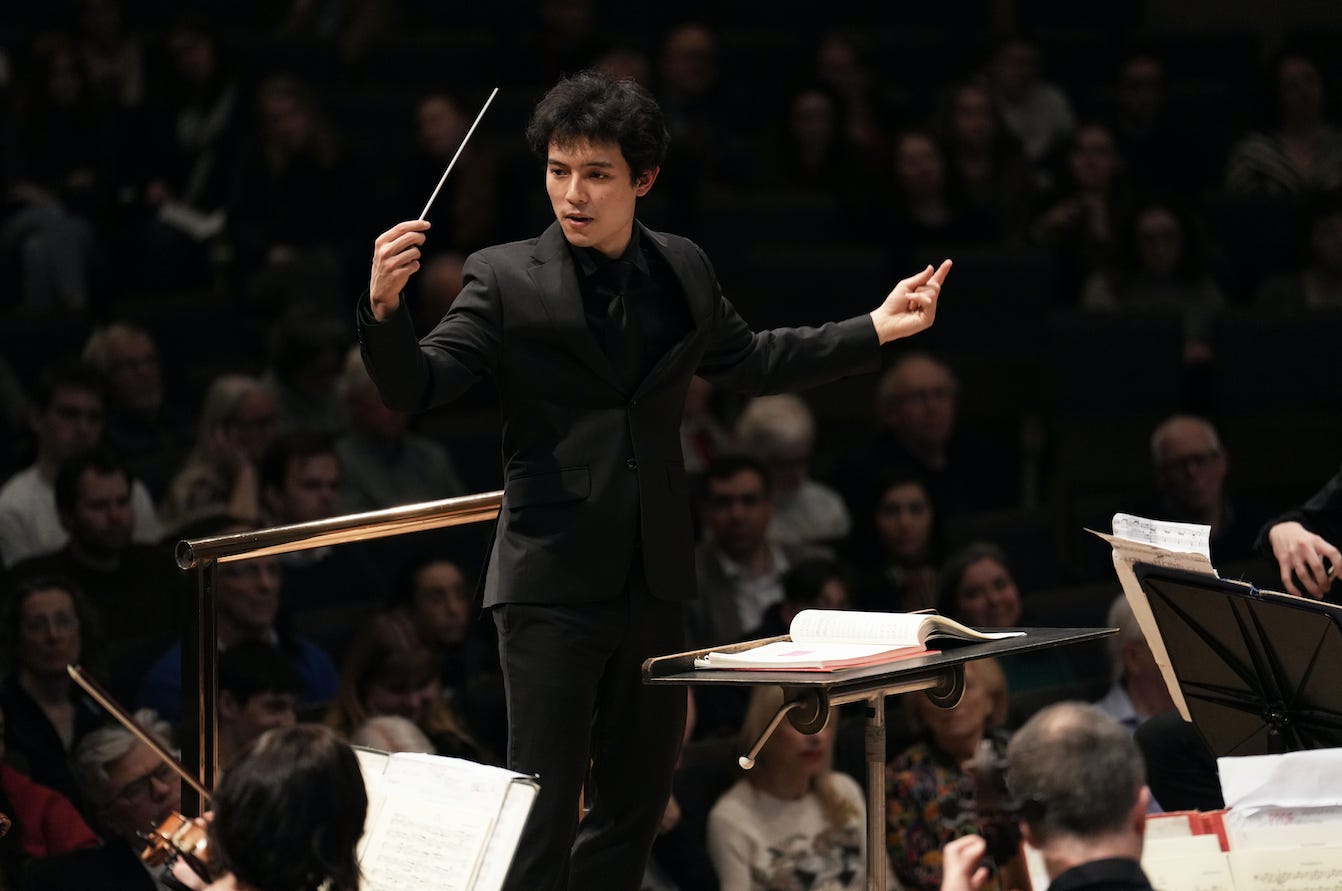 Urbina shows the musical architecture well — cues are given, milestones are marked — but possibly too well for an orchestra who could play this music standing on their heads, and need something a bit more to unlock. He relaxes into the performance, a slight raised foot in one of the final Sibelius climaxes showing some of the passion and power that saw him considered a favourite in the earlier rounds of the competition. Eventually, he steps down from the podium a little relieved and sensing that perhaps it wasn't his day.
Much like Sibelius, the Hallé has Elgar coursing through its veins. Hans Richter, the conductor of Enigma's first performance in 1899, became the Hallé's musical director in the same year; Richter and Hallé would later premiere the composer's First Symphony, and under John Barbirolli and lately Elder, it's continued to be a first-rate Elgar orchestra.
To present "Enigma" with this orchestra is quite an undertaking for someone so young. "I was so nervous going in beforehand, because it's like, everyone in the orchestra knows that better than me in a way," Shields says beforehand. "But you've got to have the right mindset to go into that situation. There's so much experience with every player, and they're such experts that I could really utilise that to create something exciting."
Exciting is one word for it. There are a couple of twitches across the orchestra as Shields begins Elgar's "Nimrod" at break-neck speed (which is to say, moderato rather than adagio). Other touches — big accents, luxurious slides — give music so familiar to this orchestra and audience a personal touch. To everyone's taste? Perhaps not. But memorable? Certainly. He circuitously exits the stage via his own route, as if to underline a point.
How would Agata Zając describe her conducting style? "A bit introvert, in a way — it's minimalistic," she replies. Her gestures are more elegant than she gives credit, but it's focused, lean, and contained through the opening moments of Stravinsky's ballet music. Later, she brings the evening's only real wow moment, as the brass let rip through the majestic final pages of "Firebird." She finishes with a flourish, and receives the only whoops and hollers of the night.
'A sense of wonder'
Leaving the hall ahead of the jury deliberation, there's the contented feeling you get when everyone thinks they know a winner but aren't quite willing to share it just yet. One competitor stands out, based on technical ability and audience reaction alone. It's clear she'll win the audience vote. (There's a QR code to vote for your favourite, though, unlike the BRIT Awards, the audience vote isn't factored into the decision-making.) But it's not a foregone conclusion. Might the jury see something brave and different in the young American, so new to this world? Or might they vouch for the Spaniard, who would clearly offer the youth orchestra so much?
Half an hour later, the jury processes onto the stage, with Elder a few steps behind, in his own time. "When you were starting out, was there anything like this?" the evening's compere Tom McKinney offers. Elder pauses, sensing the room. "No," he replies. Elder says a few words, noting that two of the competitors were performing the final pages of their performances fresh, having run out of time in rehearsals.
Then the big reveal: Urbina comes third and Zając second. Shields has won. In a beat, lives are changed.
Nobody is quite sure what to do with themselves. There's an awkward bow, a couple of hugs, and a missed photo opportunity with the Siemens banner in the background. McKinney collars Shields for a reaction and asks the reason why he chose the Hallé, and Manchester above all others. Shields replies that he met the two previous Hallé assistants in the past eight months, and wanted to emulate them. It's a small world.
"I've been so focused on the process of preparing the scores and doing my best in this event, that I spent little time thinking about what would happen if I won," Shields tells me the following day as the news begins to sink in. "I went into the performance with a sense of wonder: 'what will it feel like for me at this stage of my life to conduct Elgar's "Enigma Variations" with the Hallé Orchestra?' And after the concert, I walked away very happy because I really got the answer to that question. The quietest places and the silences between the movements had a magical feeling in the concert."
A handful of magic moments were enough to swing it for Shields. Now, it's up to him to keep the magic alive — for months, not moments.
Hugh Morris
Published: March 21, 2023